Southwest High School (Atlanta)

In Memory
Martin Dale Welch VIEW PROFILE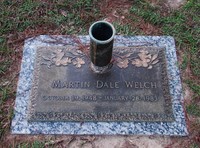 Marty Welch was born on October 17, 1948 and passed away on January 28, 1983 at only 35 years old.
Marty's wife, Janice Hatcher Welch, shared this information to Ron Simpson '67 who passed it on to us. Marty has one daughter and one granddaughter.
Click here to see Martin Dale's last Profile entry.