Southwest High School (Atlanta)

In Memory
Grover Earl Barber VIEW PROFILE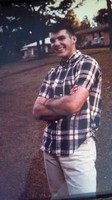 Grover Earl Barber was born on January 31, 1948.
We received the following from Sandra Barber Lewis, Grover's younger sister:
My "Big" Brother Grover passed away on July 8, 1969. He was 21 years old. Many of our friends on Facebook have asked me about him often. I miss him every single day. So, finally I will tell you all a little about him. I talk to his pictures, and visit his grave, and talk to him there. When this happened, it scared me terribly because I felt lost, and so very sad. I could not get control of myself and all I felt like doing was crying for days, and weeks. It was so shocking and sudden.
He died in a car accident on Campbellton Road in SW Atlanta. Not far at all from our home on Edgewater Drive. This devastating blow to our family left us all in shock as you may imagine. Sometimes I try to picture in my mind what he would have looked like with grey hair, and older. I know he would still be so handsome, and he would still have that sweet smile. We, our whole family, were all home for the July 4th weekend to celebrate Grover being home from Vietnam, and he had just gotten out of the Marine Corps, and was moving to his new apartment in Atlanta. God blessed us with that weekend together, and I thank God every day for giving us that wonderful memory we all share of such a happy three days. I have no words to explain how much I really miss him, except to say it has never ceased, not one day goes by that I don't think about him and wish he could be here with us.
I am posting this picture of him (above).....I love this one and have it framed and hanging up in my home. It was tken outside in front of the house on Edgewater Dr. It was taken the day before he went away. It is him to a tee! Cherish your loved ones each day....time with them is so precious. Tell them you love them. I am so glad I always have and still do. Here he is...my "big" brother, Grover Earl Barber, as he looked the last time I saw him. I love and miss him.
Click here to see Grover Earl's last Profile entry.